Meet TEAC's latest Surgical video recorder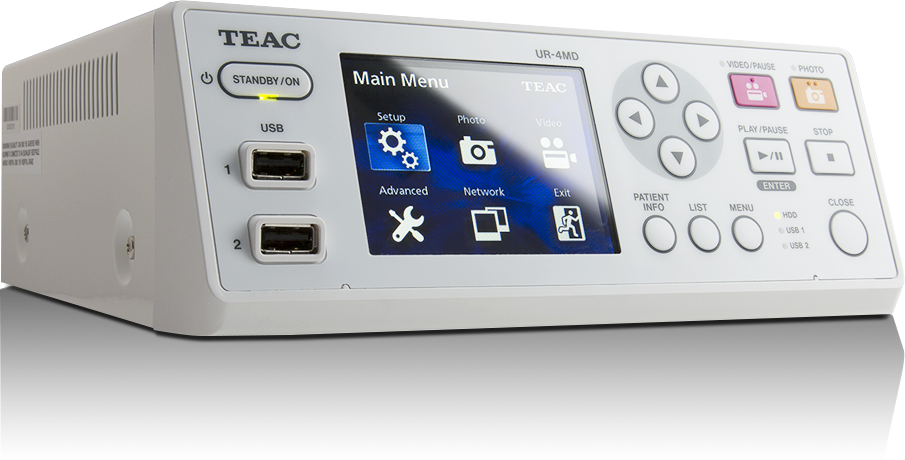 UR-4MD is TEAC's latest high-definition medical video recorder designed for quick set up and ease of use, yet includes a robust list of features and capabilities. With auto sensing video connections and automatic video resolution detection, set up is quick and easy. The front control panel allows users to intuitively record videos and photos in crystal clear Full HD. A built in hard drive is included for reliable recording, data back-up and users can also simultaneously record to USB memory and USB hard drives to archive, share and play back on other devices and locations. UR-4MD is also Network capable.
Today, nearly all medical facilities, from large university hospitals to small-town clinics, have diagnostic imaging equipment and surgical camera equipment such as Endoscopes, Laparoscopes, Microscopes, Surgical Light Cameras as well as Hybrid Radiology devices. The Medical Grade Video Recorder enables physicians and practitioners to reliably capture and digitally record high quality images from such medical imaging equipment.
3 Significant Differences from a Consumer Video Recorder
TEAC's Medical Video Recorder
1. Supports a Variety of Video Connectors Used in Medical Imaging Equipment and a Wide Range of Video Resolutions.
Along with HDMI, DVI and SDI video connectors are commonly used with medical imaging camera equipment due to the specific needs for solid connections and long cable length requirements.
While there are consumer type recorders that can support the basic recording of standard resolution from a TV or Cable Box, medical imaging varies considerably in terms of image resolutions and applications. In many cases, medical imaging devices use proprietary or non-standard resolutions and some modalities require the capture of images in real time.
2. Includes Patient Information with Medical Images.
With the growing use of imaging in healthcare and increasing amount of data for each patient, it is necessary to have patient information (NAME, DOB and IDs) as well as examination information (Physician, Procedure and Modality) be included with the images for organization and management. Medical video recorders are equipped with functions to electronically add the patient information, examination information, and other metadata to images in order to maximize efficiency and utility as well as be compatible with DICOM, PACS and EMR/ EHR standards for integration.
3. Meets Regulatory Compliance.
Design Control Guidance and Quality System Management requirements for medical grade devices are defined by regulatory bodies such as the FDA and other regional authorities. Regulatory compliance is an important part of ensuring high levels of quality control and quality manufacturing processes. This includes strict adherence to using only approved parts and components as well as tested hardware and software in the manufacturing process. Medical grade listed products that comply with and meet regulatory guidelines and requirements can be used in such mission critical environments as Operating Room.
Conclusion
Medical grade video recorders used in hospitals and imaging centers differ from consumer video recorders as they support special resolutions and applications, allow patient data to be included, and support various video connection. These differences, as well as other medical specific capabilities, enable reliable and high quality recordings of medical video and images.
If your facility is not currently using a medical grade video recorder, please check out the details of our products here.
Master recording. Without the classes.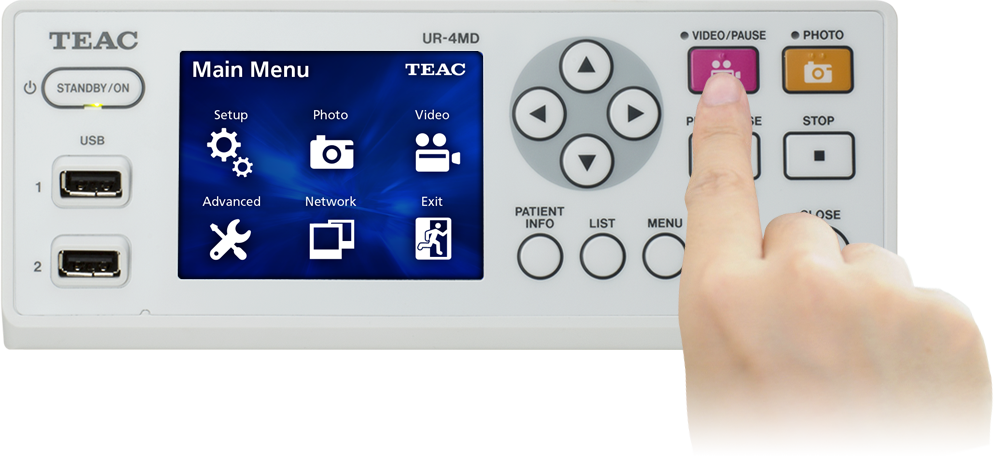 With a front control panel designed to be instinctive and easy to navigate,
even first time users are able to capture videos and still images.
Little to no training required. Easy, one-button Full HD Surgical video recording starts now.
Simply connect. Always stay connected.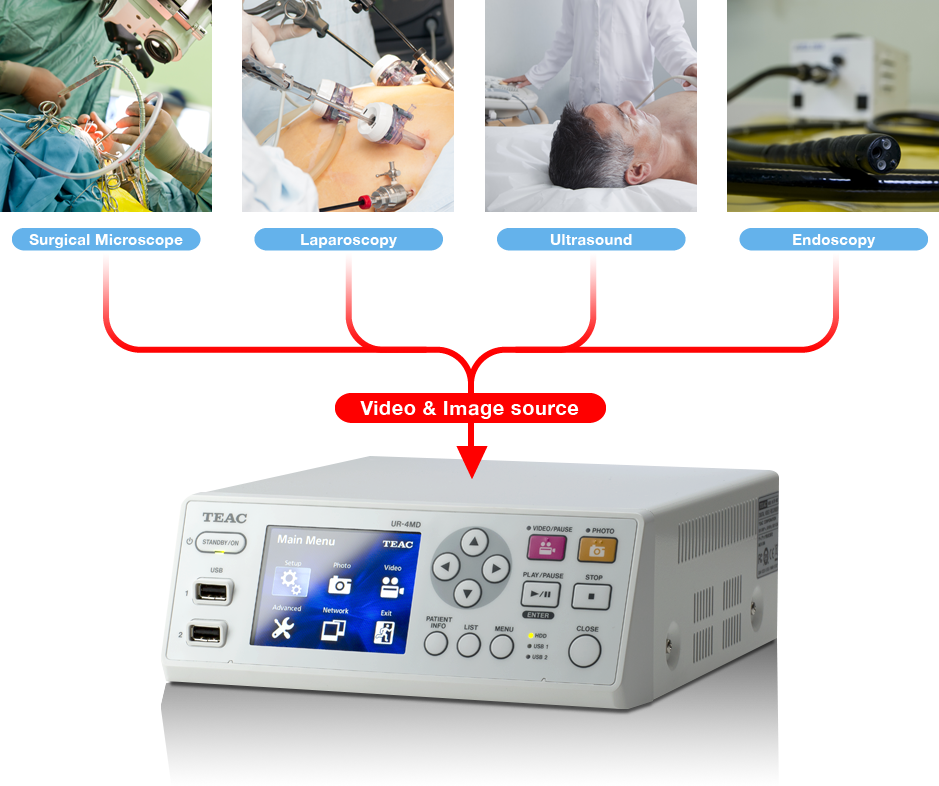 The UR-4MD automatically detects the input video signal and follows the video resolution.
Then, it configures itself to be ready for recording. This adds convenience and improves workflow.
You are only a few clicks away from recording.
*It can also be manually set up and configured.
Excellent clarity with a bright and clear 3.5" color display.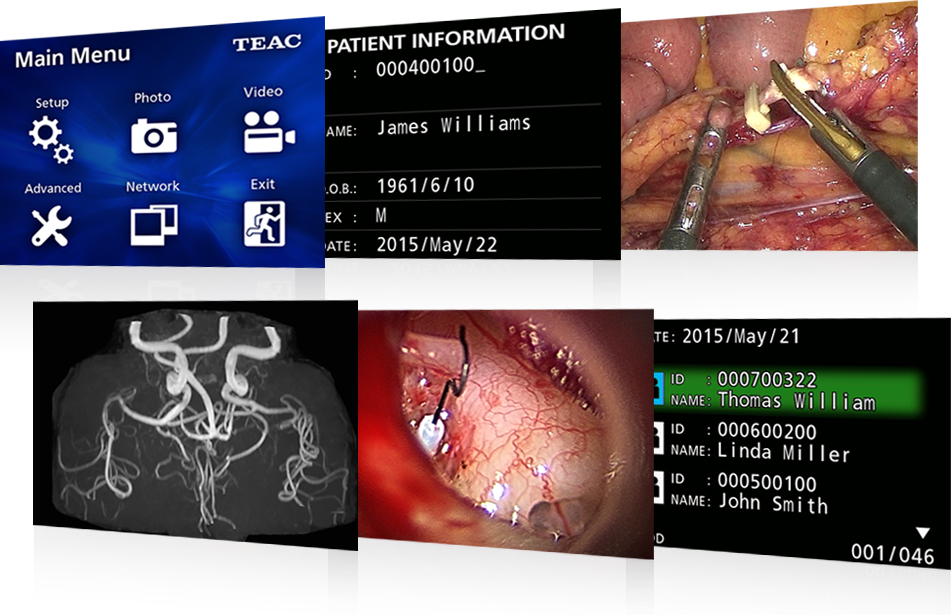 The high resolution 3.5" built-in LCD monitor provides great visibility and allows users to easily access
and check the images being recorded during the operation or examination and after the event.
For Live View, Playback and GUI. (Not for Diagnosis)
Crystal Clear Medical Imaging is yours.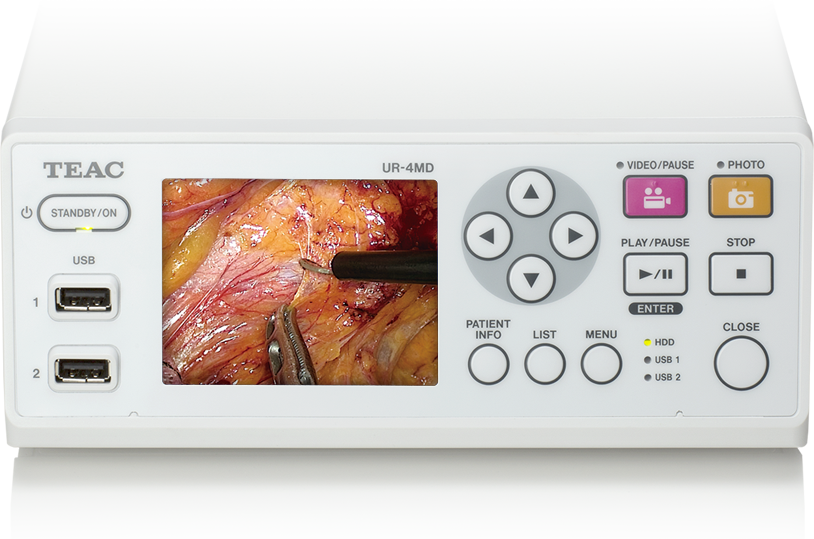 The UR-4MD allows high quality still image and video recording in crystal clear HD.
The undiluted video quality is just stunning.
Full HD/ 1080p is the most widely adopted format, used in everything from consumer electronics (TVs, Blu-ray players, set top boxes),
tablets, smart phones as well as computing platforms. TEAC, as a supplier of medical imaging as well as optical disc drives (ODD)
supporting DVD and Blu-ray for consumer products and computing, sees many advantages for 1080p that includes:
Compatibility with the largest installed base of hardware ever, including hardware used in the medical industry.
File size for management, transport, transmission, and transfer over network is optimized for current networks as well as media types (SSD, USB Flash, Blu-ray Media).
Lower cost due to production volume and quantity of component vendors driven by the installed base
4K's incremental benefit is somewhat offset by the camera/display size in endoscopy/laparoscopy, which tends to be small and sufficiently served by 1080p versus large consumer type TV screens
4K components, hardware, media, and related support will be costly and limited until consumer adoption drives enough volume
8K format is also upcoming, making 4K potentially a short lived format
3D can be enabled as an option for 1080p via a 3D video processor, sold separately at the reasonable prices, up to $500.
Conclusion: Full HD/ 1080p format in surgical imaging and video technologies will remain as the mainstream for many years
to come and will remain a "sweet spot" for the leveraging of computing and consumer technologies in the medical industry.
Capture and save with confidence.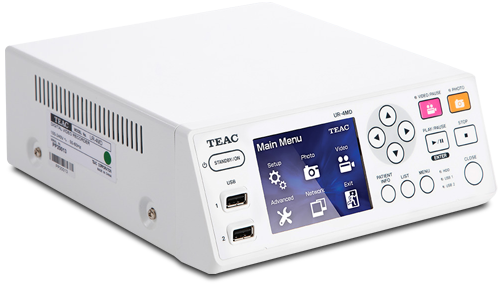 Fail-proof reliability and disaster recovery capability.
Simultaneous recording to USB drives and a built-in Hard Drive for redundant data back up.
Featuring full networking and background video file transfer.
Back-up power allows UR-4MD to safely save all data that was recorded when power is lost,
due to power failure or an accidentally unplugged power cable during video recording.
Enhanced sharing. Keep your surgical videos handy.

Share recorded files with anyone on the same network, whether it's within one institution or to a smart phone or tablet device.
Users can share crystal clear images with doctors even when they are away from the hospital.
MOV video format is natively supported by Apple's iOS for instant playback on iPad and iPhone.
UR-4MD supports a USB & Lightning cross-platform flash drive that allows compatible
iOS devices to access as well as safeguard recorded video and images via fingerprint identification.
This allows instant playback of videos and images, as well as options for email and print from the iOS device.*

*Please contact us for more information. A free app is required to enable these features on the iOS device.
Are You Ready for DICOM Integration?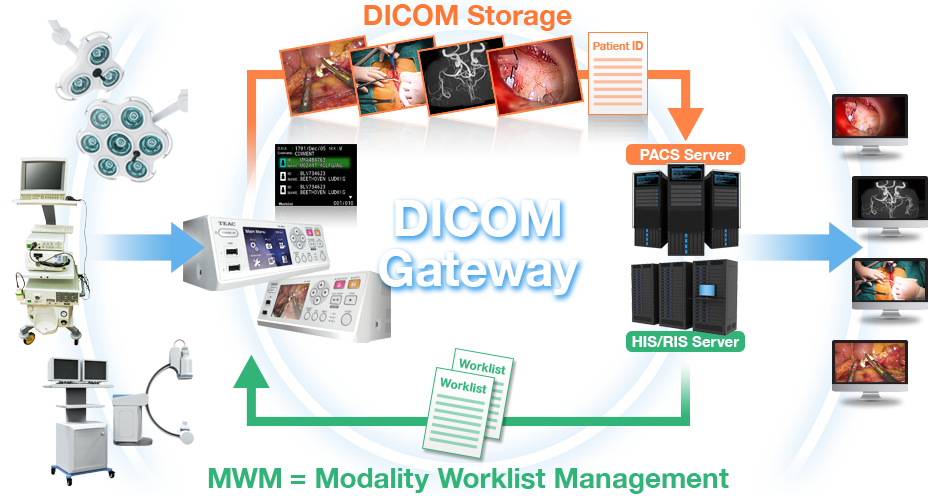 Add more Connectivity and Integration capability at a fraction of the cost.
With an optional upgrade, UR-4MD functions as a DICOM GATEWAY for captured images,
providing a truly affordable solution for connecting your existing (even non-DICOM) Modalities,
Surgical Microscope and Endoscope Systems to any PACS.
DICOM integration made easy with MWM and DICOM Storage.
Surgical grade in every aspect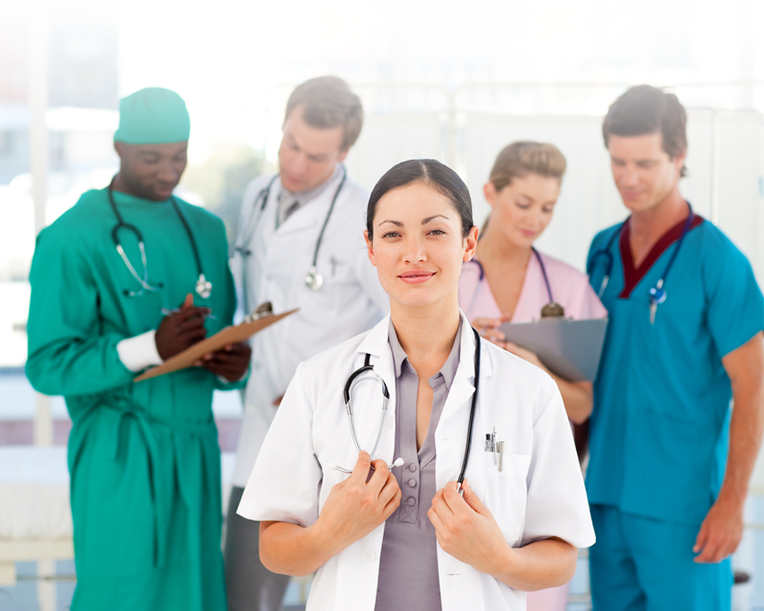 The UR-4MD is designed for hassle-free and reliable recording and storing of medical images
in the mission critical OR environment. An FDA approved Class 1 medical device.